Our business has suffered as a result of the Russian attack on Ukraine: our production facilities are partially blocked or destroyed by Russian occupiers. FINCH showroom is closed. But we still produce and deliver selected items in Ukraine and abroad.
You can help us by donating on Patreon, direct bank transfer or PayPal: finch.ukraine@gmail.com, or by just spreading the word about Ukraine.
FINCH APPRECIATES
YOUR SUPPORT

AR CLOTHING: SOLD OUT
items with augmented reality effects
by FFFACE.ME x FINCH
Follow us to get the hottest news on the release date and offers for our next semi-digital drop in 2023.
NEW ARRIVALS
clothing without digital effects
Limited T-shirt Depositphotos x Zhanna Enikeeva

$

63

T-shirt #dorogyperemogy Kyivstar х FINCH

$

27

Sale!

Black drawstring crush shorts

Beige Turtle-T: oversize short sleeve Turtleneck Sweatshirt

$

125

Sand drawstring jodhpur pants

$

95

Men's printed semi puff coat

$

880

Sale!

Adjustable reusable face mask: version №2 smaller area of contact

Sale!

Adjustable reusable face mask: version №1 of softer material

Grey asymmetrical men's tank top

$

35

White asymmetrical men's tank top

$

35

Black asymmetrical men's tank top

$

35

FINCH + Marianne Hollenstein socks х2

$

15

FINCH + Marianne Hollenstein socks х2

$

15

Drawstring jodhpur pants

$

80
FINCH x Ukrainian Fashion Week
limited capsule for real fashion geeks
RED PUFFED FASHION GEEK'S SCARF

$

81

DRAWSTRING BACKPACK UKRAINIAN FASHION GEEK

$

23

BOMBER JACKET UKRAINIAN FASHION GEEK

$

140

PUFFED SCARF UKRAINIAN FASHION GEEK

$

81
ARCHIVE SALE
unique items from previous seasons
Sale!

Archive sample: oversize two color faux fur coat
FINCH showroom at 20, Velyka Zhytomyrska Str, Kyiv is closed due to war in Ukraine.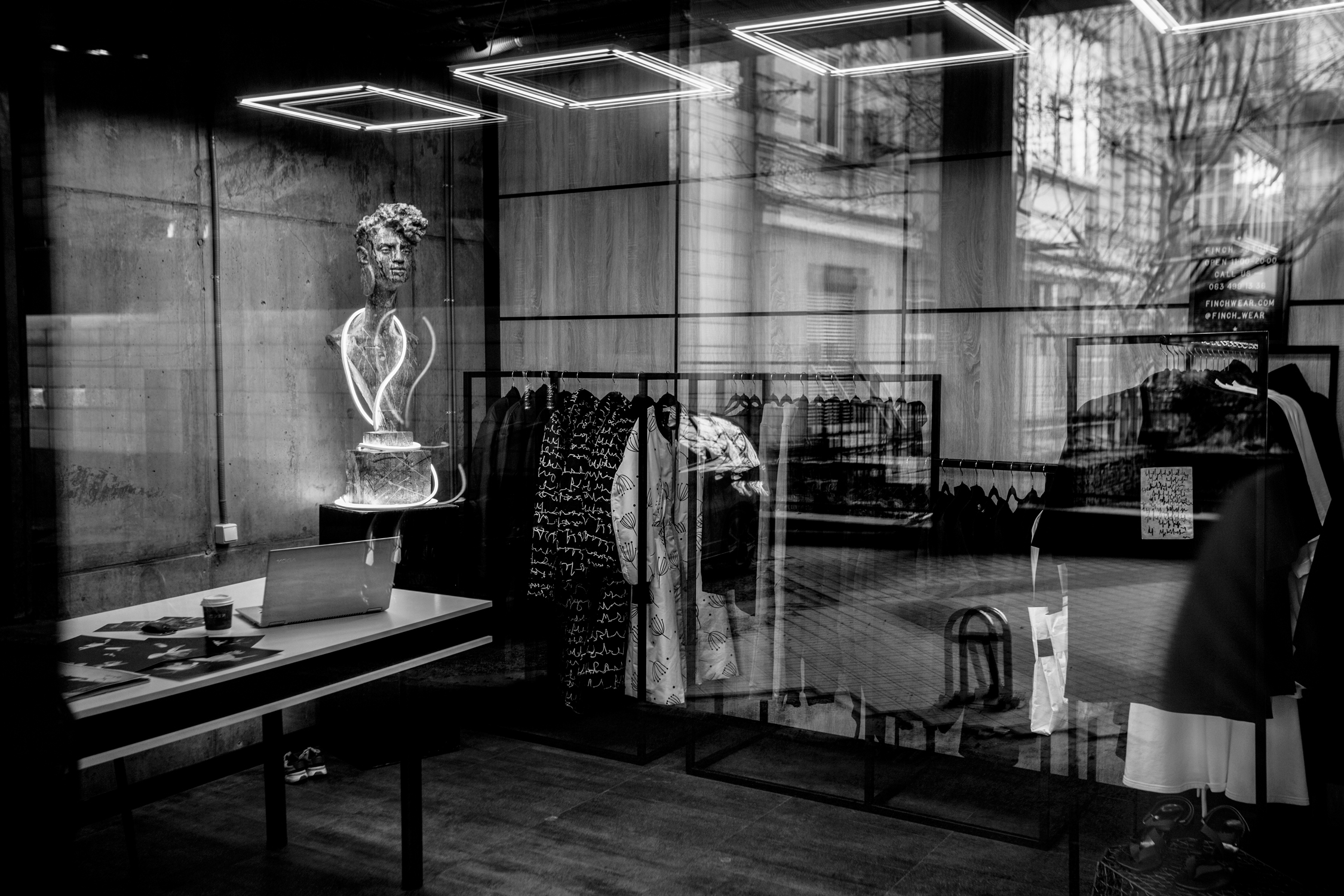 Due to the war in Ukraine and the danger of Russian attacks we had to close our showroom in Kyiv city center near Peyzazhna Alley. Also FINCH corner in the oldest department store TSUM Kyiv is closed since December 2018.
We are open for cooperation and always search for new representatives abroad, working only with the best sellers.
Our showrooms list is being constantly changing, so stay tuned:
WHAT'S IMPORTANT ABOUT FINCH?
UNIQUE DESIGN
All models released in limited series. Custom prints made specially for FINCH, premium fabrics. The unique image is very important, but your convenience is at the 1st place for us!
INTERNATIONAL SHIPPING
Free worldwide shipping for the $200+ orders. Free address delivery to Ukraine for only 2 days. For tailoring or slight size customization — plus 7 to 14 days.
WARRANTY AND REFUND
Top quality guaranteed. However, you can still return the item within 14 days of receipt, if you feel like doing so. The refund excludes bank fees.
ABOUT COOPERATION WITH FINCH
We do not work with the third party Ukrainian online stores, focusing on cooperation with global and designer niche sales platforms. The range of FINCH merchandise for each offline store around the globe varies depending on the marketing and sales analytic.
Due to this specificity there's no store with full FINCH assortment. Usually the signature items can be ordered on our web site and sewn customly, while typical size range represented in the offline stores along with the basic items.
Since 2016 FINCH has limited working with small Ukrainian stores in order to generate maximum range in one place — the department store TSUM Kyiv — and completely pro-supervise customer service.
If you're a stockist representative or wholesale buyer you can contact us directly and request the information for further collaboration – for instance the lookbook and/or line sheet for the appropriate collection.
© 2013-2023 FINCH designer clothing. Registered trademark. All rights reserved. Sitemap
Address: 20 Velyka Zhytomyrska street, Kyiv, Ukraine.
Phone: +380634991336 (International), +380507760796 (Ukraine only).