Augmented Reality Clothing
FFFACE x FINCH limited capsule

First ever ar clothing with 3D animation
designed for content creation
We showcase our looks via digital more frequently than offline nowadays. That is why FINCH brand, in collaboration with FFFACE AR developers is keen to help you customize your digital look. These garments look ordinary until you activate them.
They may turn you into an insane creature of black pearls, pulsing colors or broken glass if you wear a sweatshirt, or to a liquid silver monster and light a fire on you, or put on you dynamic blue plume for a T-shirt inside your camera  in real time. All you need is your Instagram account.
AR clothing is all about sustainability. You can get lots of attention with one piece of clothing and then digitally renew it: garments from FFFACE x FINCH limited capsule have now 3 types of realistic animations each one, two of them are active under the QR code on the garment, and one is inside filters of @ffface.me Instagram account. Each effect has a selfie-cam feature, but main effects work in the world camera.

You can order by clicking on the picture or GIF with a T-shirt or sweatshirt: semi-digital clothing is in stock.
NEW OPTION:
CLOTHING RENTAL
No need to own the expensive and couture FINCH clothes, you can borrow them from us for the important events in Kyiv, Ukraine.
We entrust you the best we have
FINCH CLOTHES FOR RENT
FINCH x Ukrainian Fashion Week
limited capsule for real fashion geeks
FINCH showroom address: 20, Velyka Zhytomyrska Str, Kyiv (the archway on the left of City Zen Cafe).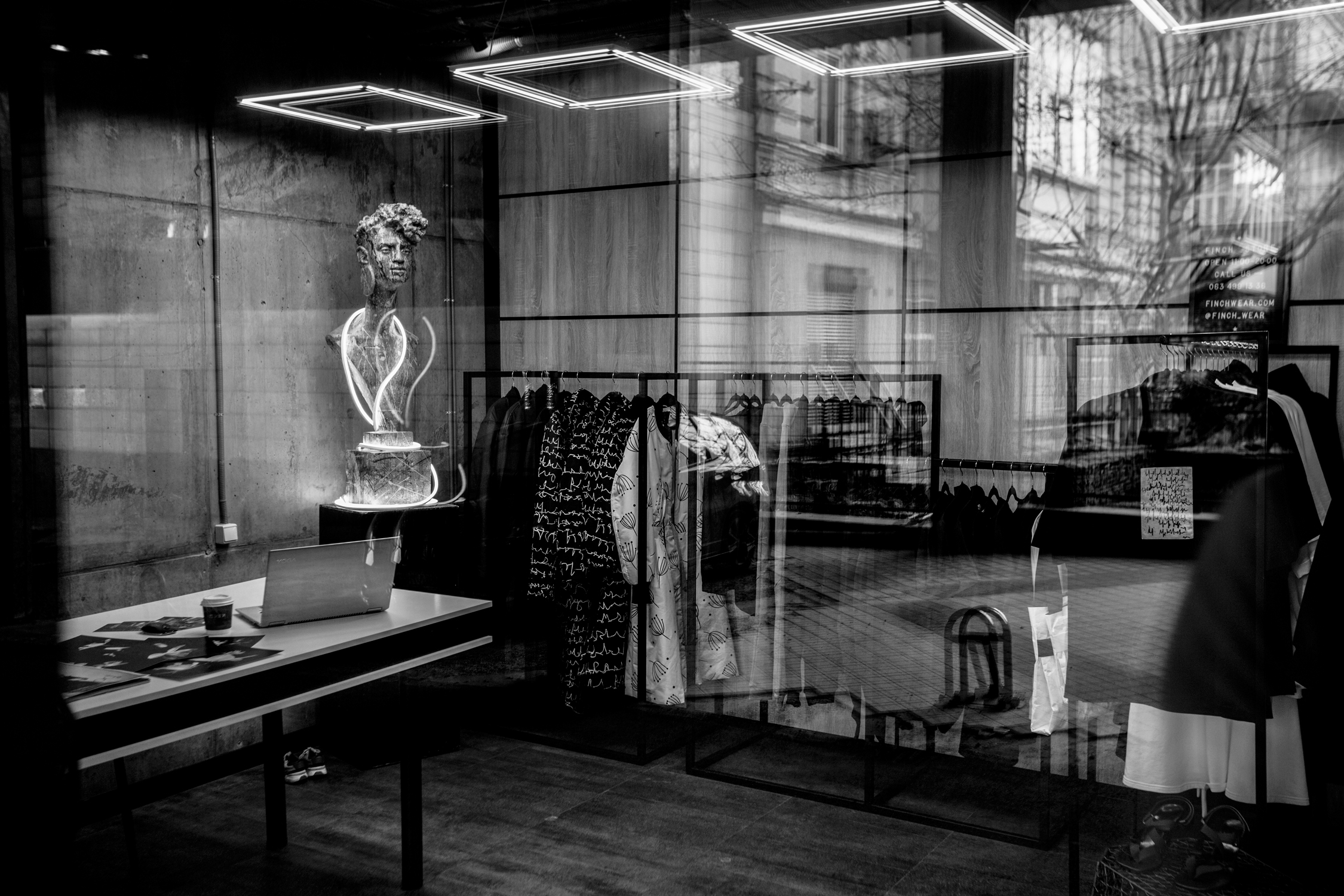 Since December 2018 FINCH corner in the oldest department store TSUM Kyiv is closed.
We are open for cooperation and always search for new representatives abroad, working only with the best sellers.
Our showrooms list is being constantly changing, so stay tuned:
WHAT'S IMPORTANT ABOUT FINCH?
UNIQUE DESIGN
All models released in limited series. Custom prints made specially for FINCH, premium fabrics. The unique image is very important, but your convenience is at the 1st place for us!
INTERNATIONAL SHIPPING
Free worldwide shipping for the $200+ orders. Free address delivery to Ukraine for only 2 days. For tailoring or slight size customization — plus 7 to 14 days.
WARRANTY AND REFUND
Top quality guaranteed. However, you can still return the item within 14 days of receipt, if you feel like doing so. The refund excludes bank fees.
ABOUT COOPERATION WITH FINCH
We do not work with the third party Ukrainian online stores, focusing on cooperation with global and designer niche sales platforms. The range of FINCH merchandise for each offline store around the globe varies depending on the marketing and sales analytic.
Due to this specificity there's no store with full FINCH assortment. Usually the signature items can be ordered on our web site and sewn customly, while typical size range represented in the offline stores along with the basic items.
Since 2017 FINCH has limited working with small Ukrainian stores in order to generate maximum range in one place — the department store TSUM Kyiv — and completely pro-supervise customer service.
If you're a stockist representative or wholesale buyer you can contact us directly and request the information for further collaboration – for instance the lookbook and/or line sheet for the appropriate collection.
© 2013-2021 FINCH designer clothing. Registered trademark. All rights reserved. Sitemap
Address: 20 Velyka Zhytomyrska street, Kyiv, Ukraine.
Phone: +380634991336 (International), +380507760796 (Ukraine only).